Call Our Dedicated Cruise Desk at 877-287-2835
Roundtrip New Orleans
This journey showcases the diversity and drama of the Lower Mississippi. From the legendary jazz of Bourbon Street to the battlefields of Vicksburg, this is an immersion in Southern Culture. Discover the romance and antebellum charms of famous plantations like Oak Alley. St. Francisville's storied past saw it change hands between seven different nations, and it contains more than 140 buildings on the National Register of Historic Places. Baton Rouge is the capital of Louisiana, and you will be both amazed and amused by the city's colorful history and larger-than-life political figures.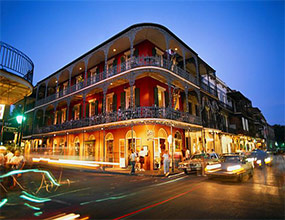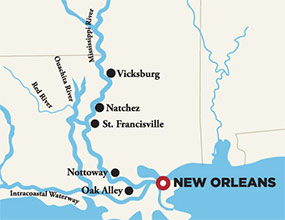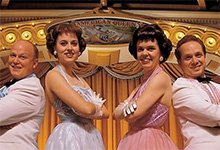 Music of the 50s and 60s
Head to the malt shop in your poodle skirt as the 1950s come alive. Frank Sinatra's dulcet tones soar in "Come Fly with Me," Nat King Cole is "Unforgettable" and The Platters think of "Only You." Relive the groovy 60s, heyday of peace, love and rock and roll. Celebrate hits from the Beatles, Aretha Franklin, Jimi Hendrix, The Rolling Stones, Bob Dylan and more.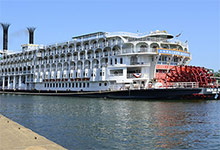 Big Band Swing
Get "in the mood" for our sensational Big Band Vacations, when special onboard guest orchestras play the tunes you know so well, all in the original arrangements that made them legendary. If you're a fan of the big bands, this is a sentimental journey you won't want to miss.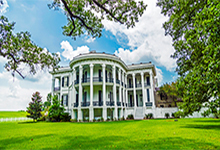 Antebellum South
Immerse yourself in the rich history and culture of the Old South. Our Antebellum South voyages carry you along the lower Mississippi River where it is easy to imagine that time has stood still. From New Orleans to Memphis, sugar cane is still grown as it was a century ago and lovingly restored mansions and plantations grace the Great River Road.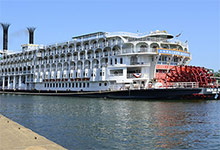 New Years Celebration
Resolve to have more fun and greet the New Year on the American Queen. The celebration carries throughout the week, but a special New Year's Eve gala in the marvelous Grand Saloon will surround you in elegant décor, confetti, champagne, newfound friends and the uplifting refrains of "Auld Lang Syne." Be one of the select few who can claim to have celebrated New Year's Eve aboard the world's grandest and most majestic riverboat.